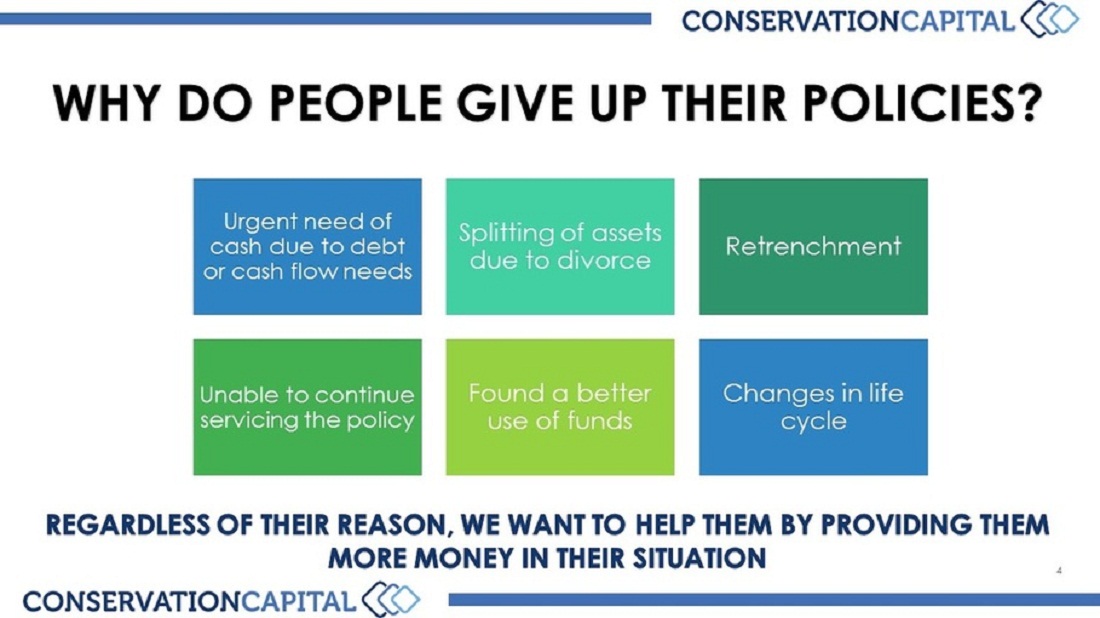 COMMONLY ASKED QUESTIONS BY INTERESTED POLICY SELLERS
1. Why would Conservation Capital pay extra cash above surrender value to the original policy holder?
Insurance Savings plans are safe, stable, fixed assets. Because the original policy holder has held and paid for a few years, the new policy owner ( our company in this instance) can jump a few years instead of buying a policy from year 0. This saves us time.
2. Why do people surrender their policies?
Original policy holders may have changes in their financial circumstances, or find that new policy features are more suited to their needs vs the older ones. Hence, they may like to switch to a new investment policy or other financial assets by liquidating the current asset.
3. How can we sell our insurance savings plan to your company.
You may follow the 4 simple steps below to sell your policy to us.
Step 1: Call us at 9006 0909 to tell us your policy details. Or click here to fill up the online form.
Step 2: We will assess if your policy is suitable to be sold.
If you are satisfied, we will make a appointment to meet officially at the insurance company.
Step 3: Signing of assignment documents
At the insurance company, we will take 20 minutes with you to transfer the policy from yourself to our company.
Step 4: Receive payment
Once the transfer is done over 20 minutes, we will pass you the cheque on the spot.
4. How long it will take me to complete that selling process?
20 minutes time
5. How my payment method be?
You will receive a cash cheque on the spot.